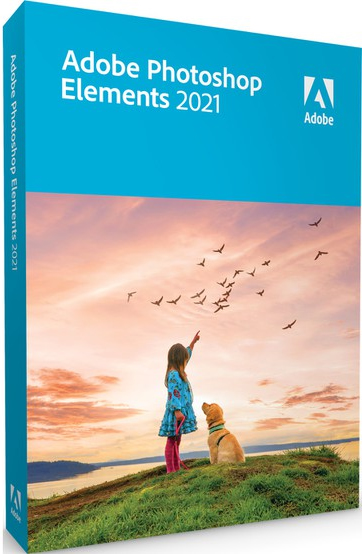 Adobe Photoshop Elements 2021.2 19.2.0.406
x64 | Languages:Multilanguage / Russian / English | File Size: 3.82 GB
Amazing photos. Fun creations. Forever memories. It's never been easier to create incredible photos. Put your best photos forward with auto-generated creations and intelligent editing options. Easily organize your photos and share them in fun ways.

Start creating today.
Beautiful photo effects, entertaining slideshows, and creative collages are ready to go upon launch. To get started, visit the home screen for inspiring ideas, help, and tutorials. Be sure to check out the new features.

Put your creativity in easy mode.
Automated editing options and step-by-step guidance make it a snap to create amazing photos.

-Adobe Sensei AI technology* automates photo editing so you can focus on the fun of creating.
-Brush on fun patterns, remove unwanted objects, and more with help from 55 Guided Edits.
-Revitalize your photos with automatic colorization.

Fun creations
Make the most of your memories by showcasing your photos in creative ways.

-Photo effects and photo and video slideshows and collages are created just for you to highlight memorable moments. Powered by Adobe Sensei.
- Make fun memes for social media plus calendars, scrapbook pages, and cards to print at home.

Effortless organization
Cut the clutter so it's easy to find, view, and enjoy your photos.

- Go from hundreds of mystery folders to a visual view - automatically.
- See your best photos - auto-curated based on quality, faces, and subjects. Powered by Adobe Sensei.
- Find your favorites fast with Smart Tags and facial recognition. Powered by Adobe Sensei.

Shareable memories
Share with friends and family just about any way you like.

- Create photos and memes you can't wait to share on social.
- Share slideshows and video clips on YouTube and Vimeo.

Select your subject with one click
Want to cut out or add an effect to the subject of your photo? Just click once for an automatic selection. Powered by Adobe Sensei.

Easily remove unwanted objects
Get step-by-step help making distractions disappear from your photos. The background fills in automatically.

Replace backgrounds
Easily select the subject of a photo and move it to a whole new scene.

Make people look their best
Automatically smooth skin to reduce wrinkles and blemishes. Powered by Adobe Sensei.

System Requirements:
- 1.6GHz or faster processor with SSE2 support
- Microsoft Windows 10 (recommended versions 1809, 1903) or Windows 8.1 (Windows 7 not supported); 64-bit versions only (32-bit not supported)
- 4GB of RAM (8GB recommended)
- 5.2GB of available hard-disk space to install applications; additional 2.4GB to download all optional content (cannot install on a volume that uses a case-sensitive file system or on removable flash storage devices)
- 1280x800 display resolution (at 100% scale factor)
- Microsoft DirectX 9 or 10 compatible display driver
Features of the RePack assembly:
The program does not require registration and activation (everything has already been treated)
It is possible to select the program language (at the beginning of the installation)
* By default, the installer sets the interface language in accordance with the language of your operating system. But you can override the language,
by selecting the item in the installer options: "Select the program language and installation path". Further, during the installation process, a window will appear,
where you can select the language you need from the list and specify the installation path for the program.

DOWNLOAD
(Buy premium account for maximum speed and resuming ability)