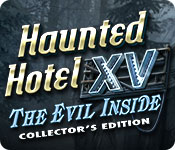 youtube
Haunted Hotel XV: The Evil Inside Collector's Edition [FINAL]|714 mb
proudly presents the newest chilling addition to the Haunted Hotel series!

Your cousin has asked you to help her paranormal TV show crew in their next investigation! What should be a happy family reunion takes a dangerous turn as something inhuman abducts your cousin! With none of the crew in site, it's up to you to track down who, or what, is terrorizing anyone who steps into the Valentine Hotel. Do you have what it takes, or will you become the hotel's next victim? Find out in this spine-tingling hidden-object puzzle adventure game!



This is a special
release full of exclusive extras you won't find in the standard.




The Collector's Edition features:


• Return to the Alexander Valentine Hotel in the bonus chapter!
• Enjoy exclusive wallpapers, concept art, music, and screensavers.
• Earn achievements and find fun collectibles!
• Replay mini-games and hidden-object puzzles until you master them.
• Test your mettle in the Secret Room.
THANKS TO VELOCITY
-------------------------------------------------------------RAZZ'S DOWNLOAD LINKS--------------------------------------------------------------------------------------------
FIND ALL RAZZ GAMES AT THIS LINK



You must login before you can view this text. Please

register

and

Login



Razz recommends Ccleaner (free version) to clean your pc and make it like new again!
you can get the free version here: https://www.piriform.com/ccleaner/download (no need to buy just use the free stuff!)
Rapidfileshare is Razz' #1 preferred filehost!

RAPIDGATOR is Razz' #2 preferred filehost!


my referrals: register a free user account for max speed
http://www.rapidfileshare.net/free330.html Get RAPIDfileSHARE FOR ONLY $45 A YEAR!
http://rapidgator.net/account/registration/ref/1583026
https://share108.com/free253.html
http://is.gd/eskw99 (uploaded.net)
http://turbobit.net/partner/?PHPSESUD=60C810D2F37A6E43BFFBD51AEA4B077C